AGM 2019
With lots of exciting changes taken place, this year's AGM was crucial to discuss where Success4All is headed in the future. Trustees, staff members, volunteers, parents turned out for the meeting on Saturday 29th June. It was a great opportunity to catch up with everyone and to hear of their thoughts and suggestions to review our plans and to help shape the next steps to take.
The meeting was followed by our Family Fun Day celebration. We had the amazing turnout of 115 people! Our EVS volunteers Marie and Sasha took on the challenge of organising the event with everything from planning how the room should be set up to Dinosaur-themed activities, such as a fact-finding dinosaur trail, excavations and putting a dinosaur jigsaw puzzle together.
Kirsty, our STEM Engagement Manager, also shared a story about looking after our environment. We learnt all about saving energy in our homes and being safe.
We presented the young people and volunteers their awards for Tutee and Tutor of the term. Find out more about them in our Newsletter.
Click here to read:
We also like to award those young people who are the most improved, the most dedicated and the highest achievers over the course of the year. They are chosen by our Learning Hub Coordinators and awarded a certificate and a prize. Here are our winners: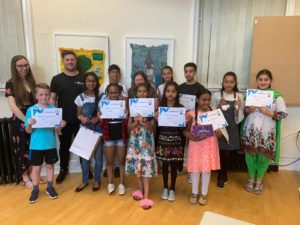 We hope everyone enjoyed the day and we look forward to seeing you all again in September when the Learning Hubs start back up!