Volunteers Week 2019
This year, so far, we have had the support of 172 volunteers across our 14 Learning Hub and Club sessions every week.
Without them, we would not be able to support as many children and young people as we do. The success of Success4All is greatly due to the weekly commitment of each of them in the evenings, during weekends and during school holidays.
Their role as tutor befrienders is not only to tutor show them or to show them how to overcome problems with school work, but to help them develop skills of how to learn effectively through tips they have picked up themselves and are happy to share. They are role models from the young people's local community showing how hard work and determination in education can lead to achieving your goals: attending university, taking on an apprenticeship or preparing for the job they have always dreamt of doing.
We like to show our appreciation for all their hard work over the year.  Apart from writing lots of reference letters and helping them achieve a Level 3 AQA Skills Award, our Learning Hub Coordinators give prizes and cards signed by the young people at the Learning Hubs during Volunteers Week.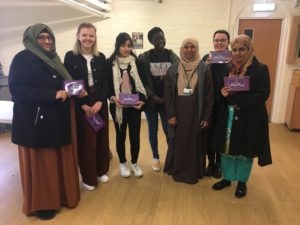 We also hold regular volunteer socials. On Friday 7th June ,at Tyneside Badminton Centre where our Slatyford Learning Hub is based, volunteers were invited to a movie night on the Learning Bus. This was all organised by our EVS international volunteers Sasha and Marie. We started with lots of tasty treats – hotdogs and waffles. The movie was a perfect way to relax after a long week and for volunteers and staff to spend some time together.
Thank you to everyone who came along, it was lots of fun and we hope to be organising more events soon!