Success4All Donates Laptop & Connects Afghan Family to The Internet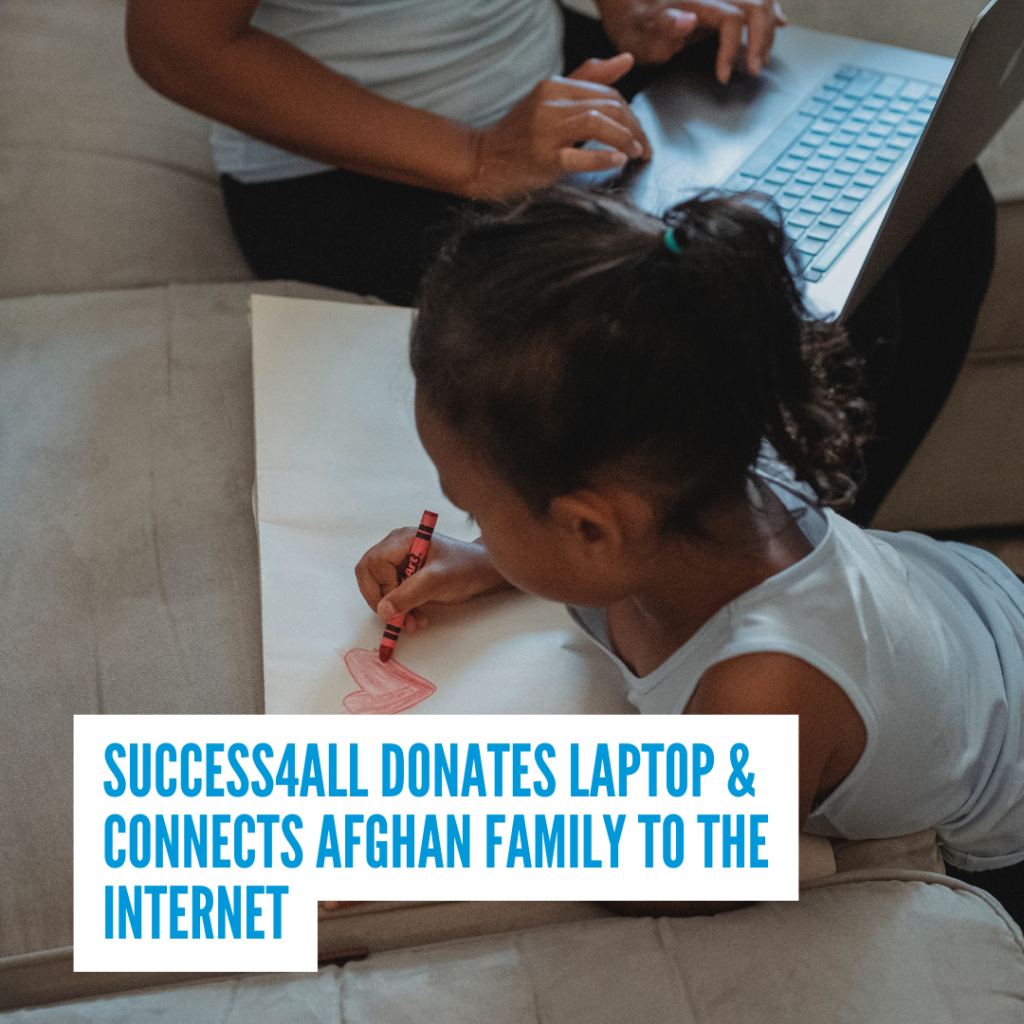 It's not just a laptop & access to the internet, it's taking control of your future and unlocking a whole new world of opportunities.
That's why we've been raising funds to help bridge the digital divide in the North East.
And thanks to your donations, Success4All has been able to support the newly arrived Farid* family with a laptop donation & home broadband connection.
The Farid family are seeking sanctuary in the UK following the collapse of Afghanistan to the Taliban.
They have been in the UK for over 6 months now.
We sat down with mum, Sarah*, to learn more about how they are settling in the UK and how you're donation is transforming their lives.
This is what she had to say:
"It happened so suddenly [leaving Afghanistan]. Our life completely changed, especially my kids' life, it completely changed.
"I try to first look after myself because I know that my behaviour, my feelings and my emotions affect my children, that's why I try to keep myself busy (volunteering), emotionally active and emotionally to make myself happy, because being an asylum seeker means to get depression.
"Even now, they [kids] still haven't been able to digest what has happened. They ask me where am I? Where are we? What happened?"
When the family arrived, they were placed in a hostel, later a hotel & now they are living in dispersed accommodation – a long-term temporary accommodation.
"I want to manage these all because of my kids because in many cases they are giving me the strength to make a new life."
Sarah tells us that life is much better now and that her children are enjoying school, especially her 9-year-old daughter, Aina*, who loves maths & dreams of becoming a scientist when she's older, just like her mother who worked as a radiologist back in Afghanistan.
Now, her degree and years of experience seem to mean so little in the UK.
Like all children across the UK, Aina is also given online homework to complete.
"We do the work on the tablet which we had before we came here, but the tablet doesn't support everything.
"I've tried applying for things on apps and websites, but they won't open on a tablet.
"The laptop will help us a lot, that's why I asked for support. We really need it but we couldn't afford it.
"I'm very thankful to all those who donated, especially for asylum seekers because access to the laptop & the internet is very difficult to afford. They are in very difficult situations.
"Me and others will not forget this! Hopefully, we can be the ones who donate the next laptop."
A special thank you to some of our latest donors & fundraisers who are helping us transform lives: Primula Ltd, Polina Borisocheva, Stephen Waddington & Sarah Waddington CBE, Jenny Hasenfuss & family, Rose Barnes, Victoria Nunn, Vicki Stone, Professor Rotimi Jaiyesimi, Kevin Ditshego-Taiwo & more.
If you would like to support us, please visit: https://www.justgiving.com/campaign/S4ADigitalDivideCampaign
*To protect the family's identity, we have changed the family's name.