Our very own Keynote Speaker!
On Tuesday 14th May, Newcastle University's Students Union and Go Volunteer kindly invited our STEM Engagement Manager, Kirsty Hayward to be a keynote speaker at the university's Community Impact Awards.
Newcastle University Community Impact Awards celebrate the work of students in the local community. We have worked with many students through Go Volunteer at Newcastle University, and these awards recognise students who have gone above and beyond in their volunteering roles.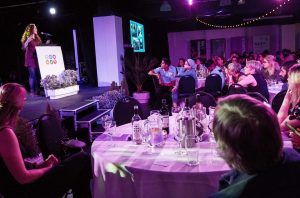 Kirsty spoke to the audience about her time as a volunteer with Success4All when she was a student at Newcastle University, what she learnt and developed during that time and how that led to her job with Success4All.
"My journey with Success4All started at when I was at university. I was keen to get involved with something in my new local area, having only just moved to Newcastle, and was pointed in Success4All's direction. I became a volunteer peer tutor befriender supporting young people in one of the Learning Hubs. I loved the opportunity to explore and adventure out of the city centre to new parts of Newcastle, meeting new people and becoming a welcome distraction from my own university work!
I was delighted to be invited by the university to share my experience with students at the Community Impact Awards. 4 years ago when I was a student volunteering in a Success4All Learning Hub, I never would have guessed that today I'm working for Success4All full-time, leading new projects, developing our science outreach, and driving a double decker bus!" – Kirsty Hayward