Meet our Trustee: Rosemary Welch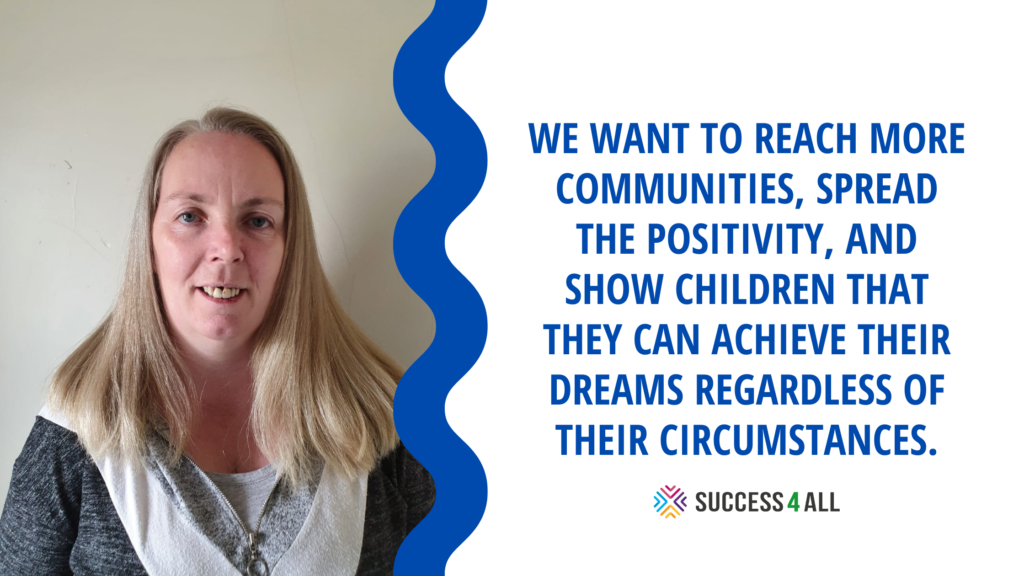 With an accolade of skills and over 16 years of experience working with children and young people, single mum of 2 and kinship foster career, Rosemary Welch, is our newest trustee.
Rosemary brings a vital perspective and voice to our Board of Trustees that enriches Success4All.
With a cup of coffee by her side, Loujane, our media communications officer, sat down with Rosemary and asked her a few questions for you.
This is what she had to say.
Tell us about yourself, Rosemary.
I'm Rosemary, 43, and I'm a single parent. I have a 16-year-old, a 13-year-old, and I am a kinship foster carer for a seven-year-old.
I've done lots of training around behaviour management, health and safety, therapeutic parenting, defuse conflict, which I've thoroughly enjoyed. I'm also on the Community Lead Local Development [CLLD] with Caroline. The CLLD have got funding to help organisations and charities get people back into work and training. 
When my daughters were in primary school, I was on the PTFA. I've done all the organising of events & fairs and I was Treasurer with them for a while. 
Kinship foster carers have a kinship support group and within that, I am the Assistant Secretary/Fundraiser.
What do you enjoy doing in your spare time? 
I enjoy doing sports, but the way things are I haven't been able to do as much. I still try and get to the gym, but team sports is what I enjoy the most. My favourites are basketball and volleyball, but as a woman, the older you get, you realise there aren't many opportunities to go out there and get a group of women together to play basketball. It's just not something that happens, and I'm quite sad about it. Lads will still go off and have a game of football, so it's frustrating. 
"As a woman, the older you get, you realise there aren't many opportunities to go out there and get a group of women together to play basketball."
There are a few little leagues out there that women are involved in, but they are hard to get into. To just socially go out and play some sport and have some fun, there's nothing.
As a young person, what did you want to be?
When I went to college, I studied Sports Science. My dream was to be a coach because even if I couldn't complete the skill I knew why, and so I ended up going down the coaching route. That way it meant I could help people get better and help them improve their confidence and their skills. That all links with children, which is why I ended up doing youth work.
What did being a youth worker entail?
Within the youth work, you were working with children, but also, doing the sports side. We used to go and have a little game of basketball, or play pool or table tennis or something like that. 
When you're working with children and they're distracted with doing something, it's easier to talk to them. It's kind of everything [coaching and youth work] all in one.
What happened next in your journey?
I ended up having a family and so I worked in retail and supermarkets for a bit to fit around my family and then ended up being a kinship foster carer.
At what point did you come across Success4All?
My girls went to Throckley Primary School and, Success4All was in the Throckley community hall running a Homework Club, which my girls ended up going to. With my close ties to both the school and the community, I found myself staying there anyway, so I ended up becoming a volunteer with Success4All.
When my youngest left primary to go to high school, we were unable to attend anymore because of the distance. 
Despite it all, Caroline and Busola still wanted me to become a trustee, so I told them when things calm down a little bit, I'll see.
It was nice keeping in touch for all those years, and here I am now as a trustee several years later.
What inspired you to become a trustee with Success4All?
I love the organisation. I love the way it is run, and I love Caroline and Busola's ideas and enthusiasm. A lot of their principles and morals are aligned with mine, so that helps.
How has it been so far?
In one of the trustee meetings we had, Caroline said with excitement; this is what we have done, this is what I want to do next, this is the biggest thing, and I was just like, go for it!
I'm just really enjoying watching it grow.
Where would you like to see Success4All in the future?
We want to reach more communities, spread positivity and show children that they can achieve their dreams regardless of their circumstances.
If you are interested in joining our Board of Trustees, please email us at: info@s4a.rog.uk