Celebrating our Community of Children, Young People, Parents and Volunteers!
by Emily Wastell on July 7, 2017 
Last week was the end of our Learning Hubs and a very eventful and successful year!
This year, the number of Learning Hubs increased to 8, with access to 18 sessions every week across Newcastle. These Hubs have given 386 children a place to learn and build confidence, supported by 195 volunteers!
It has been a year full of highlights. We introduced 4 one-to-one tuition blocks, including the week-long Easter Holiday Study Support Club that was made into full days with the addition of coding and gardening. The week ended with an egg-tastic family fun day, where we announced the winner of our #MakeAMascot competition. Thanks to two Newcastle University students who ran the competition, we now have our very own Success4All mascot – Screen Head Sammy! Our 4 Code Clubs grew into 5, and our STEM (Science, Technology, Engineering and Maths) Summer School theme inspired S4A's STEM Saturday Club that ran for 6-weeks at Walker Technology College.
In the last week, our Learning Hubs enjoyed some fun and games, and every child was awarded with an attendance certificate, for committing to their own learning.
On Saturday 1st July we had our AGM, followed by an End of Year Awards Ceremony to celebrate our fantastic community of children and young people, parents and volunteers. Throughout the day there was food to enjoy, and fun activities and challenges for everyone to get involved in. There was coding, minute-to-win-it challenges and puzzles, and the mission to create a glittery volcano in a bottle! Among all of this, there was always a long line of children waiting to get their face painted.
We ended the day with a presentation of this year's highlights, and quotes from the wonderful feedback we had been given from the children and young people, parents and volunteers. Moving on to the awards, each Learning Hub Coordinator was asked to make the difficult decision of nominating their top 3 volunteers, and 3 children for; highest achiever, most committed and most improved. The volunteers and children and young people were not only given a certificate, but an Eldon Square voucher to say well done and thank you!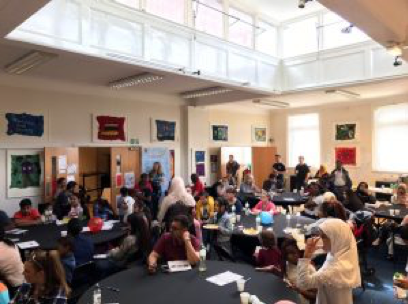 It was a fabulous day to see the Learning Hubs come together and a great way to end a brilliant year!
Now it is full steam ahead for our Summer School that starts in just a few weeks. It is running from Monday 24th July – Friday 4th August. This will be our 3rd year running a Summer School in the West End of Newcastle, in the Apostolic Church, Dilston Road, NE4 5NP. Children can join us for breakfast at 9:30am, and activities will start from 10am – until pick up at 3:45pm. Again, the Summer School will have a strong STEM theme, but there will be a variety of activities such as; baking, sports, mini trips, science experiments, up-cycling, gardening and coding! All of this is offered for only £5 per day (£2.50 for the second child). The 60 spaces available are filling up fast! To secure your place you can pop into our offices to fill out a registration form and give a £15 deposit. We are based upstairs in The Capper Room, Carnegie Building, Aktinson Road, NE4 8XS.