FAQ – What can I do to help support my child settle into the new school year?
The transition into a new school year can be daunting. Especially if this is to a new school -Setting off in an unfamiliar environment with new teachers, and with unfamiliar faces may take a few weeks or months even, of getting used to.
To make the change easier for your child, we have put together a few top tips:
–          Get your school kit ready the day before. It is one less thing to worry about at the start of the day. It is important to be equipped will all the right resources including a bag, pencil case, uniform and PE Kit. This will help your child feel prepared and ready to take on each day.
–         Tour the school. If your child is moving into a new school year, it may be useful to get accustomed to the unfamiliar climate. Finding classrooms and important places such as the cafeteria, student office and the head of years office will keep them one step ahead. Speak to the school to arrange this.
–          Homework. With the start of every new school year, the difficulty of school work and homework increases. Your child may need more support to understand complex problems and to prevent them falling behind. They can attend one of our Learning Hubs to work with a peer tutor who can help them with ease in with their homework demands and studies.
–          Finally, have regular check ins –  In the first few weeks talk to them about all the new things they are experiencing including which new teachers they have, interesting things they did in lessons, what they are enjoying the most in their new school or year, friends they have made, but also about things they don't understand, things they are confused about, struggles they may be having. Having someone to talk to will be of huge support system for them. Try to give them advice about how to solve their problems, don't step in straight away and take over. However, if you hear that problems persists and that things your child have tried to solve the problem are not working, then seek advice from the school. Failing this, come and talk to us.  Call or e-mail Caroline about this: 0191 273 2229 or caroline@s4a.org.uk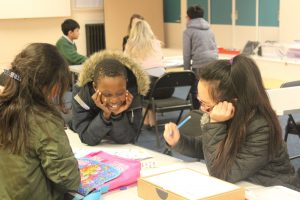 To sign your child up to one of our Learning Hubs, Please contact:
Email: info@s4a.org.uk or
Call: 0191 273 2229