Learning Bus Events
Northbourne Youth Initiative
On 14th March, we were invited to Northbourne Youth Initiative with our Learning Bus. We gave young people taking part the task to design then create an aeroplane using lots of different materials to make it fly the furthest and carry the most amount of weight.
We started upstairs on our Double Decker Learning Bus in the planning area. The young people thought about how aerodynamic they could make the planes as well as how sturdy they were.
Once the planes were built, we went down stairs to the testing area. We flew the planes and saw which design worked best and why.
Larkspur Community Primary School
At Larkspur Primary, all the KS2 children took part in the Egg Drop Shop!
This was a task where they designed a protection device for an egg that Kirsty, the STEM Engagement Manager, would later drop from the upstairs window of the Learning Bus. The only materials they were allowed to use, they had to purchase from the Egg Drop Shop using a fictional £100! We were really impressed with all the designs created, especially with those whose egg didn't crack.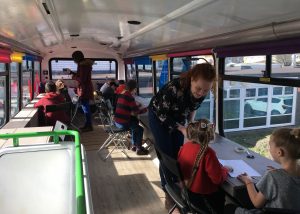 Chester-le-Street
The Learning Bus visited Hermitage Academy in Chester-le-Street on March 23rd. The bus was parked outside the school entrance and was open for parents and young people to explore. We looked a sound through making homemade Harmonicas; upstairs we had mini experiments looking at vacuums coding and amplifying sound.