VOLUNTEER NOW
We are looking for people who want to share their knowledge and skills while gaining and developing their own skills. We are looking for people who want to help build a strong sense of community where they live by helping children and young people gain confidence in their academic capability and by creating opportunities for them.
Roles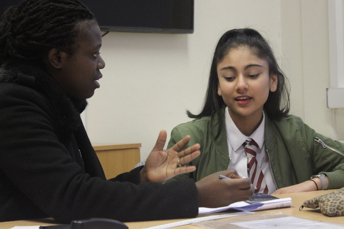 What can we offer you?
An AQA Skills Level 3 Accreditation in Peer Tutoring and Befriending. A great added extra you can add to UCAS personal statements, CVs and job applications. It's a great way to demonstrate the skills you've built and is a great talking point at interviews.

We are part of the Career Development Module at Newcastle University. Volunteering with us will carry 20 credits towards your degree, and will give you vital work experience to develop the necessary graduate skills employees want when you leave University.

We are a popular choice for those doing the Duke of Edinburgh Award or similar. Your hours earned can be used for the volunteering, skills and community sections for any DofE Award Level.

We are an awards validator for vInspired, an online directory of volunteer opportunities across England. It allows you to be recognised for the amount of hours you do – the more hours you commit, the higher the award!

We hold social events and parties to celebrate our volunteer's achievements throughout the year, and to thank everyone for all their hard work! This is when everyone gets together and has a great time.
FAQs
What experience do I need?
You don't need to have previous tutoring experience, but you'll need to show you are an approachable and friendly person that is able to support the children and young people who access our Learning Hubs.
What will I do?
We'll give you training before you start volunteering to make sure you're confident working with a tutee. We'll teach you useful techniques for engaging with students and how to get the most out of a session. We also have lots of handy resources to make your role even easier!
Will I need a DBS?
Yes – if you are aged 16 and over. Don't worry if you don't have one, we can arrange this for you at a low cost.
What about travel?
We can reimburse your bus and metro travel expenses, so you're not left out of pocket!
What happens next?
After reviewing your registration form, you will be invited to a training/induction session where we'll chat about the role and agree the day and time that you'll deliver your sessions.
What will my commitment be?
The parents we work week register their children to 6-week tuition blocks, which are scheduled throughout the academic year to coincide with school half-terms.  Sessions take place Monday-Thursday, 5 pm-6 pm, and also on Saturdays, 1 pm-2 pm. We ask that you deliver at least one of these sessions per week for a minimum of 6 weeks.
Why should I volunteer?
Giving something back to your community is an invaluable experience, and you will also build skills that are useful for further education and future employment.

WHAT YOU SAY
"I volunteered for s4a during my 3rd year of my undergrad degree and my PGCE. I found the experience invaluable, as it enabled me to work with kids from a range of different backgrounds, both high and low ability. I was able to apply successfully for a PGCE course, and I'm now an NQT at a school in Newcastle!"
"I think the work you guys do is brilliant and it personally helped me achieve the highly sought after, NCL award with Newcastle University. To achieve the award, you had to show commitment to extracurricular activities and I believe Success4All was the best possible way to do that."
"I was volunteering at S4A because it was for university and also because of experience. It was a great way for me to feel more comfortable working and helping kids and their training sessions were absolutely priceless and are helping me a lot in university."
"Over the course of only a year, Success4All helped me develop my interpersonal skills due to working with children and adults of mixed ages. These skills have then furthered my confidence with engaging people to allow me to reach out to opportunities to find my passion. I study Event Management, and S4A helped develop key skills in regards to people in order for me to further myself in this industry."
'I'm at Newcastle University and I'm studying Biomedical Sciences. Success4all helped me with my application into University as I was able to write my volunteering in my personal statement and I was able to complete my Duke of Edinburgh award because of it. I was also able to interact with other volunteers who were already at university, so if I had any questions I could ask them.'
'The experience of working at S4A was very positive for me. Me working as a tutor and befriender was completely new for me and I after working at S4A I am a lot more confident about becoming a primary school teacher. The staff was really nice so coming to the learning hub or the office was always a pleasure.'
'Volunteering has had an impact on my life as I am able to see life in a different perspective. Working with a range of people from all different backgrounds has helped me gain and expand knowledge as you learn new things. It has been a rewarding experience as there is a sense of feeling that I have had an impact on someone else's life whether that is small or big.'